Tomorrow is Abraham Lincoln's birthday. Woo-hoo! Party! Yes, I'll take any opportunity to have a little cake and call it homeschool enrichment. And I'm totally fine with that, because one of the newest additions to my burgeoning RSS feed is
By Sun and Candlelight
, and apparently Dawn feels the same way. I am planning to add a couple of her linked activities to our day tomorrow. I was a link-clicking lunatic until I came to not
one
, but
two
Lincoln Log Cake links.
The painful memories are still so fresh
. I just cannot in good conscience make a Lincoln Log Cake for Ol' Honest Abe when my darling husband had only cake shards for his birthday. So I'm going to be content with the stovetop hat craft, building a log cabin out of pretzels, the coloring page, word search and reading a book. (All those links are available at the By Sun & Candlelight post I first linked to.) We may even have pseudo-Lincoln Log Cakes. Little Debbie to the rescue!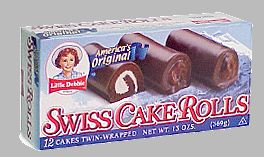 Thank you so much,Dawn, for hooking me up with a full day of Lincoln fun!